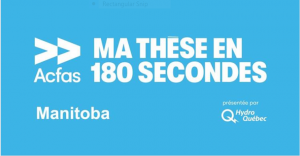 The very first Manitoba edition of the francophone contest My Thesis in 180 Seconds was held online on July 24th.
Hosted by Jean-Éric Ghia, Associate Professor in the Department of Immunology at the University of Manitoba and Honorary Consul of France in Winnipeg, the competition challenged 4 candidates to present their thesis work in 180 seconds to a 4-member jury.
The first prize of $400 was won by Abdoulaye Diarra, a 2nd year Master's student in Immunology, whose research focuses on the treatment of inflammatory intestinal diseases (thesis: chromofugin regulates the stress activation pathway of the endoplasmic reticulum and apoptosis in ulcerative colitis).
The second prize of $300 was awarded to Lucie Jeusset, Ph.D. student, for her work on chromosomal instability at the origin of colon cancer formation. As the first doctoral student ranked in the competition, Lucie Jeusset will represent the province of Manitoba at the Canadian National Final to be held online on November 19, 2020.
Review the performances and presentations of the MT180 Manitoba contestants here.
The My Thesis in 180 seconds competition is inspired by the 3 minutes thesis competition, initiated in 2008 at the University of Queensland, Australia.
In 2012, the ACFAS  (Association francophone pour le savoir), took up the concept in Quebec to extend it to all French-speaking countries.
The provincial contest Ma Thèse en 180 secondes in Manitoba was organized in partnership with the Embassy of France in Canada, the Honorary Consulate of France in Winnipeg, the University of Manitoba, the University of Saint-Boniface, the Alliance française du Manitoba, the newspaper La Liberté, ACFAS, the Théâtre Cercle Molière, Radio Canada Ici Manitoba, the Secrétariat aux relations canadiennes du Québec and Hydro Québec.