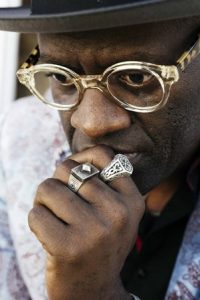 Alain Mabanckou keynote of the Night of Ideas in Toronto
Art Museum, Hart House and the University of Toronto are hosting, in partnership with the cultural services of the French Embassy in Canada, the second edition of the Night of Ideas, dedicated this year to migrations and borders. This international event initiated by the Institut Français is taking place in five cities of the Anglophone part of Canada. In Toronto, on Saturday, February 2nd from 7pm until 2am, debates, performances and projections will take place.
The Franco-Congolese writer Alain Mabanckou, author of more than twenty books translated and distributed all around the world, will open the evening with an introductory speech followed by an interview. Nominated in 2015 at the Chaire de Création artistique of the Collège de France, he teaches Francophone literature at the University of California – Los Angeles. His literary work, which mixes enchanting poetry and caustic humour, was rewarded by many prices, among the Prix Renaudot (2006), the Grand Prix de littérature Henri-Gal de l'Académie Française (2012) and the Ordre des Arts et des Lettres (2016). His last novel, Storks are immortal (Seuil, 2018), is set in the Congo of the late seventies, and deals with postcolonialism and impasses of the African continent. An historical timeline and intimate novel, it was nominated for the Grand prix du roman of the Académie française in 2018.
The philosopher of care Fabienne Brugère will discuss of zones of detention with the architect Anne Bordeleau, the advocate specialised in the rights of the refugees Hanna Gros, and Rasha Elendari, a PhD candidate and representative of the University of Toronto Newcomer Students Association. The founder of the collective Black(s) to the Future Mawena Yehouessi will present her work, in dialogue with the artists Lisa Jackson, who created the project Bildaaban and Sarah Sharma, Director of the McLuhan Centre for Culture and Technology, University of Toronto. Forced migrations will be mentioned by the PhD student specialised in public and international law Marine Denis, the member of No One Is Illegal – Toronto Syed Hussan and the member of the rescue team of SOS Méditerranée  Marc Carbonell. Numerous activities such as projections, theater workshops and dance workshops, proposed by the Burkinabe choreographer Aguibou Bougobali Sanou, will happen through the night.
Free entrance. Event in English. For more information: