07mar(mar 7)7:00 pm10(mar 10)9:00 pmWINNIPEG: 5th ALLIANCE FRANÇAISE FRENCH FILM FESTIVAL7:00 pm - 9:00 pm (10)
Event Details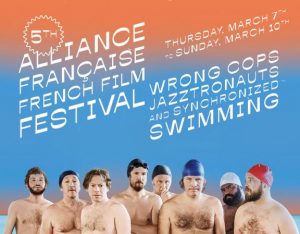 The Alliance Française du Manitoba and the Winnipeg Cinematheque are joining forces to launch the 5th edition of the Winnipeg French Cinema Festival, presented this year with the title 'Wrong Cops, Jazztronauts & Synchronized Swimming. This year again, the Festival will showcase the best of French cinema.
The festival is an invitation to discover some of France's most outstanding films – some old and some new – and experience the diversity of French cinema. The programming includes Mr Klein (1976) by Joseph Losey or Sink or Swim (2018) by Gilles Lellouche. It will also feature Western-Canada premières such as Amanda (2018) by Micheale Hers and In Safe Hands (2018) by Jeanne Herry.
New in 2019, the French Film Festival will close with a documentary co-presented by Winnipeg Jazz Festival: 16 Sunrises (2018) by Pierre-Emmanuel Le Goff will be screened on Sunday 10th at 5pm. Saxophone virtuoso Guillaume Perret, who played last year at Jazz Fest, Guillaume Perret put a little water in his wine to make the soundtrack of the film. The Festival is also offering support to Manitoba's women filmmakers and, on March 8th, will screen the series (Being) Women in Canada (2018) by Winnipeg Film Group featuring work by Danielle Sturk, Tricia Wasney, Shawna Dempsey, Tracy Traeger, Lorri Millan, Erica Eyres, Caroline Monnet, Amanda Strong, Leslie Supnet, and Rhayne Vermette.
Again this year, Damien Ferland, a young director and producer born in Saint-Boniface and a 2005 graduate of the University of Winnipeg's film department, has taken on the role of guest programmer. His works have been screened internationally.
Time

7 (Thursday) 7:00 pm - 10 (Sunday) 9:00 pm