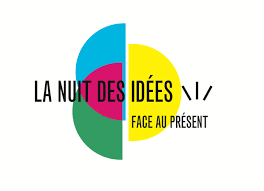 The Night of ideas will take place from the 29th of January to the 2nd of February 2019 in Canada but also in 120 cities et 70 countries all around the world.
Celebration of the stream of ideas between countries, cultures, topics and generations, the Night of ideas gives the opportunity to discover the latest discoveries in knowledge and arts, to listen to the ones who contribute to bring more ideas to their field, and to take part in the discussion about the main issues of our times. The 2019 edition will gather guests from diverse backgrounds – intellectuals, researchers, artists – in order to focus on the theme : "Facing our time".
And since ideas know no frontier, projects of any type are welcomed (conference, theatre play, performance, screening, concerts, etc.), and all places – whether prestigious or unexpected – are called to join the party and host original projects reflecting their own interpretation of the suggested theme. As time goes by, glimpses from the Night of ideas will echo through social media and make the Night of Ideas a global event.
Canada takes part for the 2nd time in this global event and offers this year more cities, places, and guests in Halifax, Ottawa, Toronto, Winnipeg and Vancouver.
"Facing our time" : this theme intersects three main issues. On contemporary events and the lucidity it calls for: technological, social, environmental, geopolitical and other deep changes are now part of our daily lives. On commitment, its new ways and forms : which initiatives can we take to tackle the challenges of our time ? On the perception of time and its transformations: in an era marked by the instantaneous diffusion of information, how can we resist the reign of immediacy ?
Events scheduled in Canada are indicated in "Event" and on the France Canada Culture's facebook page: https://www.facebook.com/FranceCanadaCulture/
Follow us on Instagram and Twitter to be informed of all the events across Canada before and during these great nights :
Instagram: https://www.instagram.com/francecanadaculture/
Twitter: https://twitter.com/FCCulture_