Despite the end of the lockdown in France on May 11, large gatherings will not be permitted for some time in certain regions.
Music festivals, which every year bring together enthusiastic crowds of people of all ages who want to move and "commune" to the sound of rock and jazz, decided to cancel their events in 2020.
Let's take a look at some of these summer music festivals.
Eurockéennes
This festival was set to take place in Belfort on July 2-4, 2020.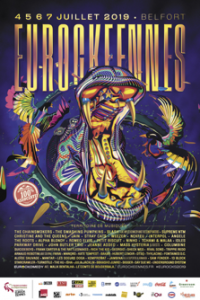 The first edition took place in 1989.
The festival is renowned for the wide variety of music it features and for its venue. The venue is particularly appreciated by the 128,000 festival-goers because it is located between two water points (Etang de la Véronne and Lac du Malsaucy) in a superb setting in Franche-Comté.
To give you an idea of the musical styles featured at the 2019 festival, here's a list of some of the bands who performed there: Les Chainsmokers, Interpol, Petit Biscuit, Alpha Blondy, Nekfeu, Mass Hysteria, Angel, the Roots and the Smashing Pumpkins, to name but a few.
About 75 concerts are played on the festival's 4 stages during the 3-day event. A large campsite allows 15,000 festival-goers to stay on site. Those who prefer to stay in 7 km away in Belfort, or in Montbeliard, can take advantage of free shuttles.
Francofolies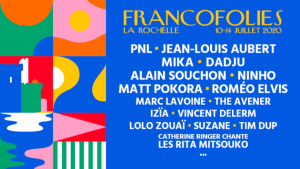 The 36th edition will take place July 10-14, 2021.
This music festival, created in 1985 under the leadership of Jean-Louis Foulquier and Philippe Friboulet, takes place in the city of La Rochelle in the Charente-Maritime department. It aims to promote contemporary French and Francophone music.
It welcomes over 145,000 festival-goers each year.
Thanks to its success, Les Francofolies is exported on a regular basis, not only to French overseas departments and territories but also to other French-speaking countries such as Belgium, Switzerland and Canada, where Les Francos de Montréal are very well known.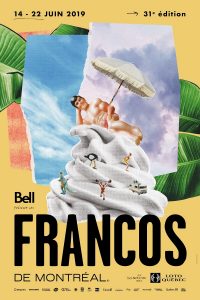 In addition to the festival, ongoing support for emerging artists is also given throughout the year in the form of activities organized by Chantier des Francos to train and support new Francophone songwriters, performers and composers.
Several artists or groups of artists are identified each year and then supervised either in an intense personalized manner or in the form of a residency that is flexible enough to suit their level. They benefit from mentorship, role play exercises and even distribution support.
To promote French and Francophone music in schools, a project called Francos Edu has been in place for several years. Les Enfants de la Zique (CD and booklet) which academies could order for their students has now been replaced by a digital edition. One-time events are held, during back-to-school season for example, and training courses are available for teachers.
Over the past ten years or so, the festival has also made changes for a better future through Mes Francos Demain, a program whose goal is finding better social, environmental and economic solutions. To this end, the festival is working to reduce the amount of waste it produces, to reuse as many materials as possible and to encourage festival-goers to use reusable bottles, to travel in an environmentally friendly manner, to buy locally, etc.
Les Vieilles Charrues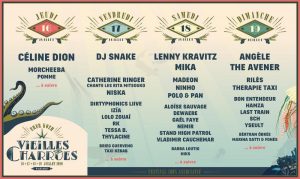 Due to the current crisis, the 29th edition, which was to take place this summer 2020 with Celine Dion as its headliner, has been postponed until July 15-18, 2021.
This festival began in 1991 as a fair in Landeleau, near Carhaix in central Brittany, where visitors could eat grilled meats and participate in boot throwing or plough pulling. Now, it's a three-day concert in the town's centre. But here too success forced the organisers to change their strategy and in 1998 the site of Kerampuilh was chosen and a small town was built there for the festival.
More than 50,000 festival-goers a day now enjoy the 86 hectares of fields and meadows every year. They are mostly young people aged 18-25 who come to listen to a wide variety of music (including pop, rock, electro, hip-hop, chanson, world, local folklore, both from established and emerging artists) but we also see multiple-generation families.
The festival is committed to protecting the site by limiting unnecessary waste with a team of 700 people hired to clean during the four-day event (employees, volunteers, service providers) the campsite, meeting places, refreshment stands.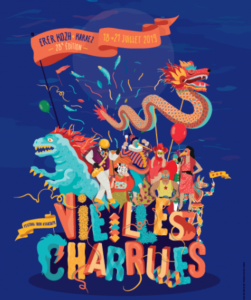 The particularity of this festival is that it is very much focused on community and that each year over 7000 volunteers (the "ploughmen") from about a hundred organizations donate their time and energy to help organize the festival. In exchange for this, they receive a financial donation for their organization's charitable, sports or heritage projects (a total of 120,000 euros goes to these organizations). The organizations are also given dedicated spaces where they can present their project to festival-goers.
The festival is also very committed to prevention and to providing information about health, sexually transmitted diseases, road safety, women's safety, etc… In total, 45,000 condoms, 65,000 pairs of earplugs and 6,000 breathalyzers will be distributed during the festival.
Another special feature of the festival is that a theme is chosen each year and festival-goers dress up accordingly. One of the very first themes was the desert to illustrate the economic desert that is central Brittany. Since then we've seen pirates, aliens, super heroes, the conquest of the West, the Gauls, Alice in Wonderland, retrogaming, Peace and love, the Indian summer… In 2019 it was Carnival.
This year's theme was Twenty Thousand Leagues Under the Sea by Jules Vernes.
The festival operates thanks to its numerous financial partners as well as its local, regional and national sponsors.
Label Charrues was created to encourage emerging regional groups to perform at the festival.
Jazz in Marciac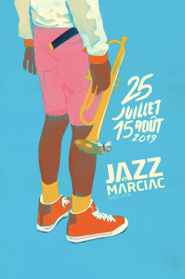 The festival's 43rd edition, which had been scheduled for July 24 to August 14, has also been cancelled.
This tiny town in the Gers department comes alive 3 weeks each year, from the end of July to mid-August for JIM (Jazz In Marciac). It was created in 1978 by music fans after a Bill Coleman concert.
In addition to events scheduled throughout the annual cultural season, the festival has also developed training sessions such as summer music and tap programs and residencies. Most of these take place at the Astrada, a multidisciplinary hall with over 500 seats, inaugurated in May 2011 and approved for jazz by the Ministry of Culture. It has become known as a place of transmission, diffusion and sharing, not only in the jazz world, but in the world of live performance more broadly.
Mr. J Cazelle, who has been attending the festival for several years with his friends, gave the following statement:
"Under a huge circus tent, we were able to enjoy listening to jazz veterans as well as newer jazz artists (such as the Japanese IROMI, who can play amazing 20-minute piano solos). The American trumpet player Winton Marsalis leads the festival every year with his band. They are a wonderful mix of traditional and modern, a style all their own.
When we are not at the concert, we can enjoy the city: bars and restaurants in the residents' backyards, to eat foie gras or duck confit with Madiran wine. There is even jazz music played in the main square with free access from 11am to 7pm, under a tent because the sun is strong. You can relax to the sound of the amateur orchestras that perform one after another on stage. Needless to say that wine, beer and even champagne are also on the menu. Drinks are the only thing that isn't free…
Jazz à Vienne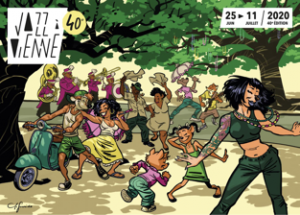 The 40th edition was scheduled to take place June 25 to July 11 2020.
Jazz à Vienne has existed since 1981 and partly takes place in a grandiose Roman amphitheatre, an antique theatre with 7500 seats dating from the 1st century. It's outdoors, so you have to closely watch the weather, which often manifests in the form of thunderstorms. With 2 additional stages (Jardin de Cybèle and Le Club which is in the Vienna Theatre, dating from 1782), free of charge, there are a total of more than 250 concerts per edition (200 of which are free) played by 1000 artists and seen and heard by 200,000 festival-goers every year.
More info on The Jazz Academy, rezzo focal, jazz for kids, jazz features
Cazelle's statement continues: "Vienne is a medium-sized city, nothing like the rurality of Marciac. But the passion shown by jazz fans is the same.
…
You can't reserve your seats in advance when you buy tickets, so you have to arrive very early if you want to be near the stage to admire the playing and the particularities of the artists. In my opinion, new jazz, free-jazz, African and Caribbean jazz are more diverse than in Marciac. In short, there's lots of different types of music. Either you love it or you hate it, but either way it's playful and colourful and the public participates through encouragement and applause in these festive moments."
https://www.jazzavienne.com/sites/jazzavienne/files/atoms/files/programmation_jazz_a_vienne_1980_2019.pdf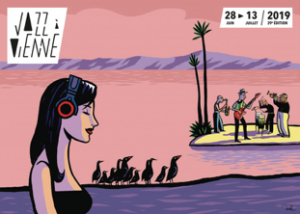 Jazz à Juan: July 9-25, 2021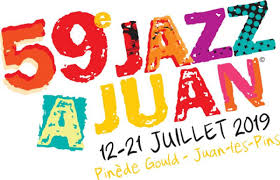 The first «Jazz à Juan» festival, created as a tribute to a famous musician who loved Antibes, none other than Sidney Bechet, was the event that sparked off many other festivals which quickly spread across Europe. Claude Nobs, inventor of the great Montreux event, said himself: "If I hadn't passed through Antibes, Montreux wouldn't exist." The concept was revolutionary. For the first time, the general public could discover the main artists of the great saga which jazz had already become, with the heroes on stage in person, and the most beautiful decor one could wish for under the Gould Pine Forest's hundred-year-old trees facing the Mediterranean Sea. It was certainly a bit of a gamble, but one which more than lived up to its promises.
While welcoming the greatest jazz figures since 1960, the Antibes Juan-les-Pins festival retains a double attraction. Firstly through its rich line-up, true to authentic jazz, but also and above all because it remains a real laboratory where everyone can see that jazz is still a living musical style: high quality opening bands, (free) "Off" fringe concerts, hotel bars and streets carried away by Brass bands… There is plenty to be discovered: a musical style which is varied, pleasing and always at a human level, on a famous site between beach and stars. Performers throughout the world see the Gould Pine Forest as the equivalent of what the Scala of Milan represents to opera singers: a confirmation and an exceptional opportunity to perform to the public, the ideal cocktail for a legendary place.
As early as 1960, the remarkable concert by Charles Mingus took place, then the start of the «Love Affair» between Ray Charles and the pine grove, the revelation of Miles Davis in 1963, the memorable duet between Ella Fitzgerald and a cicada… In 1968, after the Coltrane shock, while heated debate was raging back and forth, there was the irresistible free-style period, before Jazz Rock and fusion were at their height in 1976, then the impressive collection of pianists in 1981 (Petrucciani, McCoy Tyner, Chick Corea and Keith Jarrett), the revelation of Al Jarreau, the extraordinary duet between Stanley Clarke and Miroslav Vitous in 1984, another duet by Sarah Vaughan and Michel Legrand, the performances by Carlos Santana and the great Jessie Norman… Not forgetting, of course, the fabulous concerts by three of the most faithful returing artists: Dizzy Gillespie, Stan Getz and Sonny Rollins.
Solidays: postponed
In 1999, Luc Barruet created a cultural UFO where music serves as a lever for solidarity. At the dawn of the festival's 21st edition, he gives us his analysis of the Solidays phenomenon:
"I tell myself that we were right to trust that the youth would change the world. Our call to action has been heard well beyond what we imagined. Thanks to everyone's enthusiasm and empathy, of people from Marseille to Bangkok, from Niamey to Bucharest, we have been able to alleviate some of the human suffering in the face of AIDS. Without pretension, I think we can say that year after year, Solidays has proven to be a powerful tool. Raising awareness, committing to educating young people, supporting the development of collaborative networks, employment and sustainable development… there is much to be proud of.
The surprising thing is that the DNA hasn't changed. Built on the values of sharing and mutual aid, 20 years later, Solidays still gives meaning to celebration and colours to solidarity.
There are several reasons. The moderate ticket prices, the volunteers' enthusiasm, the program's quality and the festival's unique atmosphere. Many people see this festival as a place of pilgrimage. People come here with family and friends to nourish their "search for meaning," to share the pleasure of "being useful," the pleasure of "being together." It is rare and precious. And because the spell works every year, we come back with a light heart and a smile on our lips. In short, Solidays is a mix of David Guetta and Sister Emmanuelle. Internally, we call it the "mechanics of the heart."
Rock en Seine in St Cloud on August 28-30, 2020
This festival has existed for 17 years. 120,000 festival-goers come to listen to international pop-rock in the heart of Parc de St Cloud in the chic suburbs of Paris.
There are meetings, exhibitions and even an event for children: Mini Rock en Seine. A springboard for high school students is also organized under the leadership of the Ile de France region to supervise and promote 6 groups of high school students during the festival.