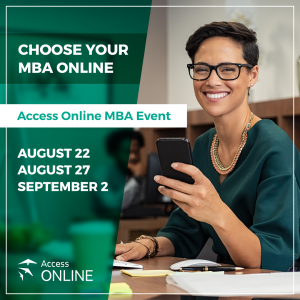 Are you looking for the best way to grow your career as a business leader?
The Access Online MBA event gives you the opportunity to explore MBA programs from wherever you are located around the world.
Get ready to meet leading international business schools online and have all your questions about your MBA journey answered on the go.
What to expect from this online event?
Receive a personalized profile evaluation by our expert MBA consultants
Meet with the admissions directors of prestigious business schools in real time
Receive professional admissions and GMAT advice
Participate in school presentations and partner workshops
What makes the MBA degree valuable?
The MBA study format is designed for business leaders who are ready to develop their international managerial career or wish to move to a different industry. Employers value the business fundamentals, problem solving mindset, and adaptiveness that MBA participants acquire by the time they graduate.
Take the first step by discussing your preferences for business schools and programs directly with admissions directors. They look forward to meeting with you online!
One-to-One MBA event by Access Online – Choose the date that best fits your schedule:
August 22nd, August 27th, September 5th
Get started today! Register here: https://www.accessmba.com/link/FGW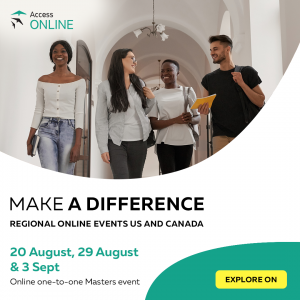 Join the Access Masters Online on Aug 20, Аug 29 or Sept 03
Seize the opportunity to book your personal live video meetings with some of the best universities and business schools. Talk with graduate school advisers online. Start your Masters journey now!
What you can expect from the event:
Meet admissions advisers in a safe environment
Discover the Masters programmes that suit you best
Enjoy personalised education and career advising
Win a free campus visit to a university of your choice
Draw for half-price GMAT Mastery Course by Admit Master
Free Consulting GRE session by Scholastica PREP
Receive a $100 USD off any of Sherpa Prep courses
Win a 50% discount on a GMAT preparation course by Grad School Guru
Receive a 100% discount for 1 application consultancy and a 20% discount on all services by Top-Admissions
Get the "2020 Access MBA & Masters Guide" (digital publication)
The event is free of charge and open to all candidates, but early registration is mandatory to be selected for One-to-One meetings. Register here: https://www.accessmasterstour.com/link/FFU