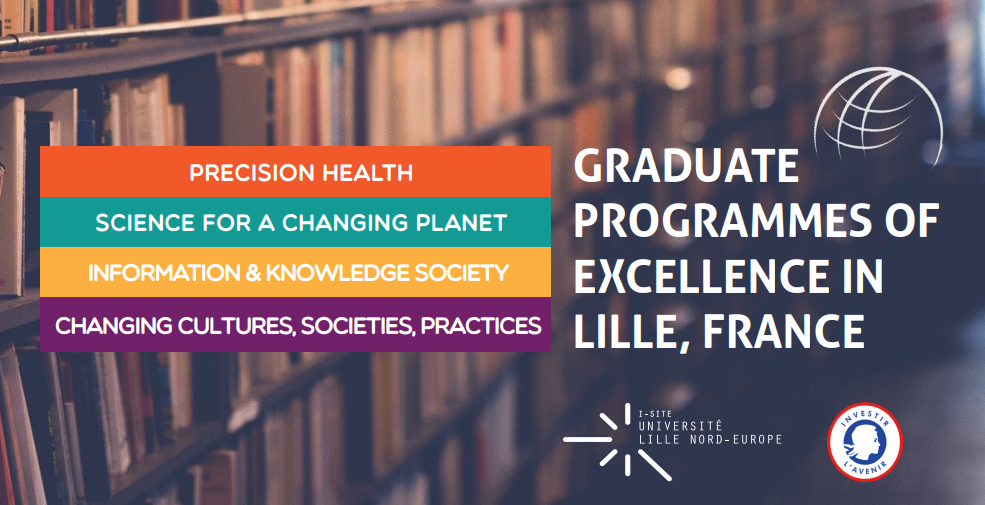 The ULNE I-SITE Consortium has the ambition to build and articulate 3 attractive international Graduate Programmes within its 3 thematic eponym Hubs of excellence:
Precision Human Health
Science for a Changing Planet
Human-Friendly Digital World
These three graduate programmes are being developed by collaboration between the Consortium's scientific activities and academic programs.
Graduate Programme 'Information and Knowledge Society'
The objective of the program is to train professionals with hybrid skills in different scientific and technological keys directly related to the entrepreneurial environment and society: data and artificial intelligence, internet of things, photonics, cognition, and human-machine interaction.
Coordinator: Marc Lefranc at [email protected]
Graduate Programme 'Health'
The objective of this program is to form students to the innovative concepts that will drive tomorrow's research and health management. It is open to talented Biologists, MD and PharmaD from national and international origin, to form the next generation research leaders for academia, industry and biotech.
Coordinator: Anne Tailleux at [email protected]
Graduate Programme 'Science for a changing planet'
This program has three objectives:(1) understanding and monitoring planet changes; (2) seeking alternative solutions to the exploitation of fossil resources, and (3)evaluating the impact of global changes on people, the earth and societies.
Coordinators: Sophie Duquesne at [email protected] & Céline Toubin at [email protected]
These programs will be fully offered in English and include mandatory internship periods in research labs and/or in companies as well as a study or internship program abroad.
Each year, scholarships are available for students having the highest academic records and applying to one of the master degree of the Graduate Programme. Two calls for application are organized :
a first call, ending the 15th March 2021
a second call, ending the 20th June 2021
For more information, visit isite-ulne.