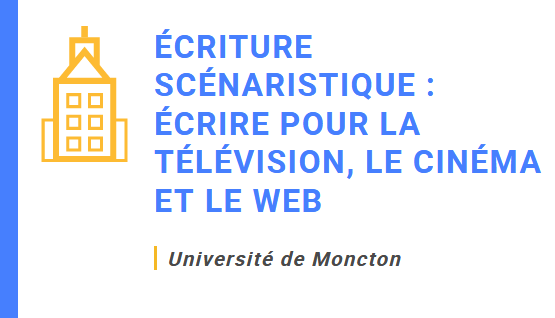 Following the success of the screenwriting training offered in January and February 2019 at the Moncton University, TV5, Unis TV, the Association des artistes acadien(ne)s professionnels du Nouveau-Brunswick and the Moncton University are offering this training again in October 2020.
And this time, it will be 100% virtual!
Since the training is being offered aonline, it is now accessible to all Francophone screenwriters in minority communities across the country. Of the fifteen screenwriters trained in 2019, more than half are currently working on professional productions, thus joining their talent to the bank of established screenwriters.
Above all, this intensive training provides participants with the keys to better understand the needs of broadcasters, design stronger projects and master the writing of the various documents essential to the success of a project. More than ever, French-language television and digital productions in a minority environment have a duty to be competitive and, as we know, everything starts with good scripts.
For more information, visitez UMoncton.