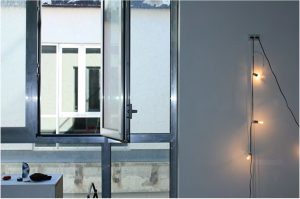 This opportunity will enable early/mid-career artists to undertake a residency at Triangle France – Astérides in Marseille for 14 weeks. Triangle France -Astérides' residencies are opportunities for self-led professional development, artistic exchange and experimentation.
Triangle France – Astérides is a 26 years old non-profit contemporary visual art organization based in "Friche la Belle de Mai", a former tobacco factory in the center of Marseille, where it supports artists and serves diverse and expanding audiences.
CONDITIONS
An individual 60 sqm studio space.
An individual room in a 90 sqm apartment (common areas with other residents: living room, kitchen, bathroom ; Wifi).
1 000 euros fee. Prior to the residency, Triangle France – Astérides is available to assist the selected artists in their additional fundraising endeavours.
Administrative, logistical and curatorial assistance.
Studio visits with professionals are organised by Triangle France – Astérides during the residency.

Residency program dedicated to French and international artists.
Session #1: 6 January – 13 April, 2021
Session #2: 19 April – 26 July, 2021
Session #3: 6 September – 13 December, 2021
Deadline for applications: Monday 27 April, 2020 (Midnight, GMT +1)
For more information and to apply, visit Triangle France.