Dr. Jean-Eric Ghia, Associate Professor, Departments of Immunology and Internal Medicine section Gastroenterology, University of Manitoba. Canadian Association of Gastroenterology (CAG) – 2019 Young Investigator Award Recipient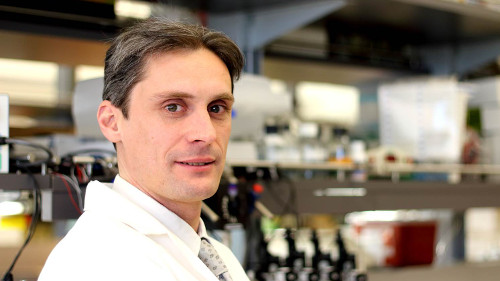 Dr. Ghia obtained a PhD in Neurosciences in December 2003 studying the physiological role of the Chromogranin A-derived peptides (Strasbourg, France) associated to a university diploma: Clinical trial diploma. He was an Institut de France and then a Canadian Association of Gastroenterology—Canadian Institutes of Health Research—Astra Zeneca postdoctoral fellow at McMaster University in the lab of Prof. Stephen Collins. There he trained extensively in depressive-like behavior and its relationship with colitis. In 2010, he joined the University of Manitoba.
Currently, he is the director of Gastrointestinal Basic Biology Research at the Manitoba IBD Clinical Research Center, where he heads a multidisciplinary team that performs basic IBD research to accelerate the development of IBD therapeutics. Over the years, he has built a local translational IBD research program through the establishment of a Neurogastroenterology lab, which tests novel colitis prevention strategies targeting Chromogranin-A, semaphorin3E, post-traumatic stress disorders with several patents submitted. He is an investigator in the SPOR Pan-Canadian IMAGINE Network. His laboratory received funding from CIHR, NSERC, Research Manitoba, CFI, Crohn's and Colitis Canada.
Since 2015, he has produced scientific segments on Radio-Canada, radio and TV, featuring research funded by national and provincial agencies. In September 2018, he was appointed by the French and Canadian Governments, Honorary Consul of France in Winnipeg.
He is the recipient of the 2019 Canadian Association of Gastroenterology New investigator Award
Found his scientific segments on the Facebook page of Ici Manitoba