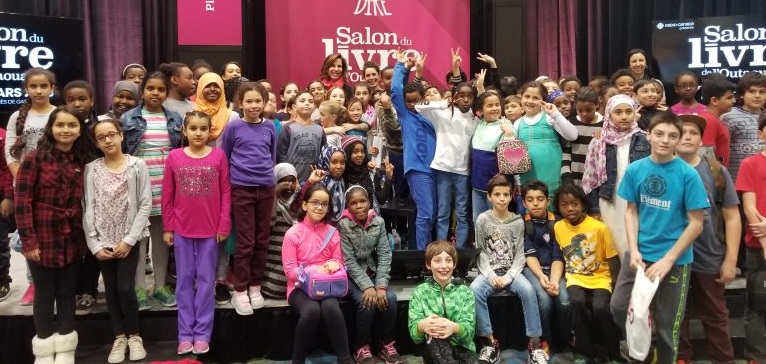 On March 2, 2018, the Embassy presented the award for francophone children's literature at the Salon du livre de l'Outaouais. Adèle Pédrola was the proud winner for her book "Et si la nuit…" published by l'Apprimerie. The French Ambassador presented the author with her award in front of an audience of a hundred children on a trip to the SLO for the event. During her visit, the author met with her young audience, promoted her book in the Ottawa region and shared her creative journey in the presence of the Ambassador.
In this competition open to professionals in the publishing industry, 20 works of literature by major French and Canadian publishers were entered. The winner was selected by a jury made up of a grade 7 class from lycée Claudel in Ottawa, a member of the SLO and two members of the Cultural Service of the Embassy. In addition to winning a trip to Canada to showcase her work, the winner also received a prize of $1,500 Canadian.
This year, a new special award was created, exclusively dedicated to children. The grade 4 and 5 class from collège International Marie de France in Montreal received this award, intended to encourage classes to work together as a team with teachers to put together a book.
For the presentation of the award, French Ambassador Kareen Rispal met with students from l'école Charlotte-Lemieux and l'école Marie Curie. Aged 8 to 9, these children came on a field trip to Ottawa for the event and even got to talk to the Ambassador about her profession.
In the days following the event, Adèle Pédrola met with students from l'école Mauril Bélanger and lycée Claudel to discuss her book "Et si la nuit…" and the writing profession today. It was an important moment of sharing and mutual learning.