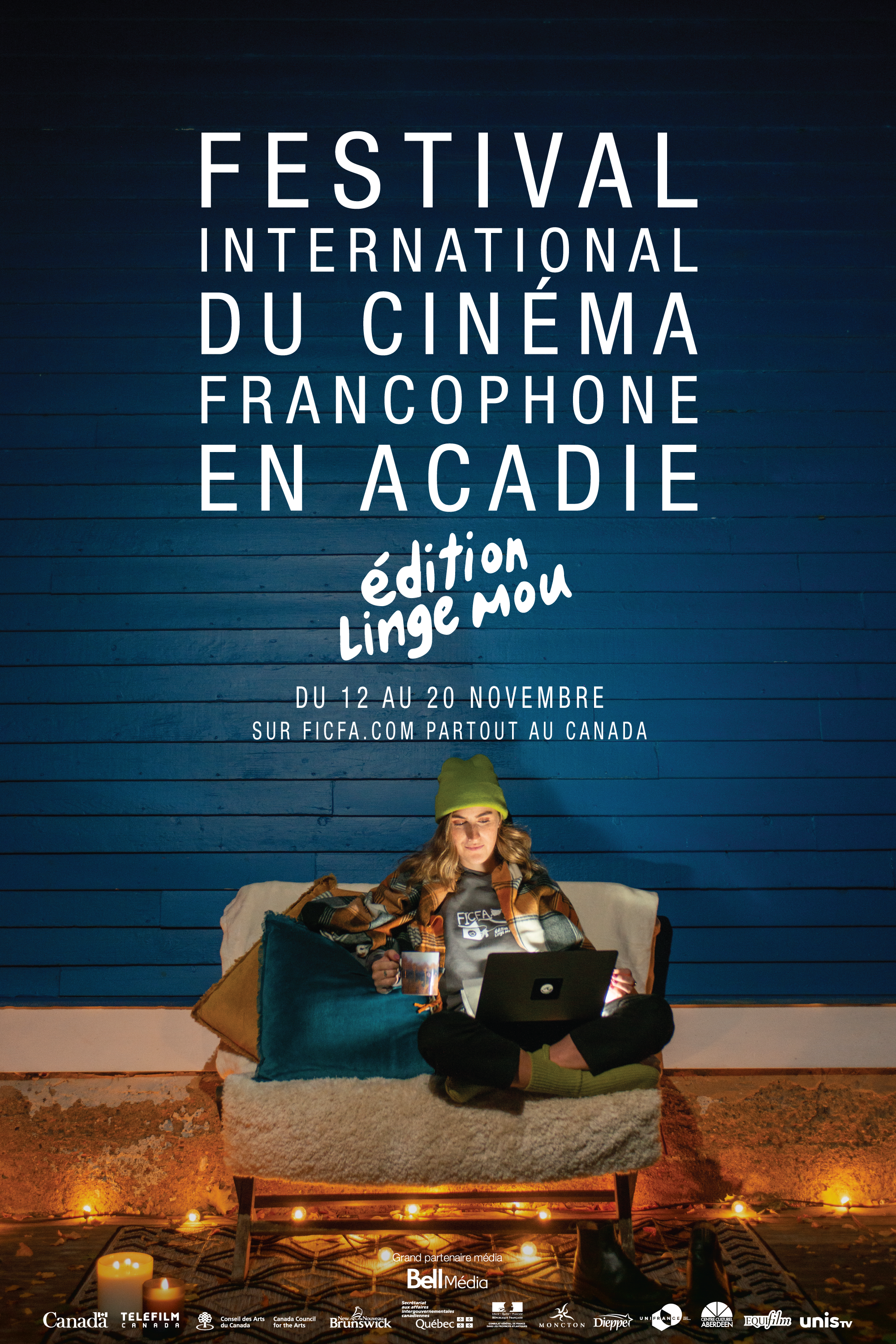 Renamed "Édition Linge mou" in honour of the dress code for moviegoers at home, let yourself be tempted by some sixty French-language films to be viewed live from wherever you want, from November 12th to 20th on ficfa.com. The festival is exceptionally accessible across Canada!
6 feature filmss and 15 short films from France (coproductions included) will be presented during this virtual edition. Some of these films were discovered by the programmers during their participation at the online Cannes Festival or during the Clermont-Ferrand International Short Film Festival. Find out the list and the screening dates below!
Thanks to approximately 15 all-new interviews who will complete these film shows, cinema will not have any secret left for you! Moreover, the legendary FICFA Mediatic Arts phase, with its podcasts, Super 8 numerized film shows and the 10th birthday of its emblematic evening Objectifs obliques, should please you !
Get your pass for only $29 this year !
English program : https://www.ficfa.com/english-program
French movie nights:
CINEPLEX DIEPPE
19:00 (ADT)
LA BONNE ÉPOUSE
France/Belgium, 2020, Comedy-Drama, 109 min, French with English subtitles
Virtual room
19:00 (ADT)
SLALOM
France/Belgium, 2020, Drama, 92 min, French with English subtitles
Sat. Nov 14th
Virtual room
21:00 (ADT)
LES PARFUMS
France, 2020, Comedy-Drama, 100 min, French with English subtitles
Followed by an exclusive interview with actress Emanuelle Devos
Sun. Nov 15th
Virtual room
19:00 (ADT)
LES CHOSES QU'ON DIT, LES CHOSES QU'ON FAIT
France, 2020, Comedy-Drama, 122 min, French with English subtitles
Sun. Nov 15th
Virtual room
21:00
POISSONSEXE
France/Belgium, 2020, Comedy-Drama, 89 min, French with English subtitles
Wed. Nov 18th
Virtual room
21:00 (ADT)
GAZA MON AMOUR
Palestine/France/Qatar/Germany, 2020, Comédie dramatique, 88 min, Arabic with French subtitles
Thu. Nov. 19th
Virtual room
19:00 (ADT)
Short films screenings:
SCREENING 4 – SHORT FILMS PROGRAM 1
Sat. Nov 14th
Virtual room
12:00 (ADT)
CAMERAMEN
France, 2019, Comedy, 17 min, V.O. française, S.-T. anglais
CÉLESTINE
France, 2020, Comédie dramatique, 20 min, French with English subtitles
LOVENA
French Guiana, 2020, Drame, 28 min, French and other languages, with Frenchsubtitles
SCREENING 9 – ANIMATION PROGRAM
Sun. Nov 15th
Virtual room
12:00 (ADT)
DEUX OISEAUX
France, 2019, Animation, 11 min, Without dialogue
CHLOÉ VAN HERZEELE
France, 2019, Animation, 16 min, French with English subtitles
ASMAHAN LA DIVA
France, 2019, Animation, 6 min, French with English subtitles
SCREENING 11 – SHORT FILMS PROGRAM 2
Sun. Nov 15th
Virtual room
16:00
LE DÉPART
France/Morocco, 2020, Drama, 20 min, French and Arabic with French subtitles
PILE POIL
France, 2019, Comedy-Drama, 20 min, French with English subtitles
JEÛNE D'ÉTÉ
France, 2020, Fiction/Comedy, 18 min, French with English subtitles
SCREENING 14 – SHORT FILMS PROGRAM 3
Mon. Nov. 16th
Virtual room
17:00 (ADT)
MY NAME IS SONILA
France/Albania, 2019, Drama, 19 min, V.O. French/Serbian/Albanian, French subtitles
WHICH IS WITCH?
France, 2020, Experimental, 6 min, V.O. – Without dialogue
GASOIL
France, 2020, Dark comedy, 17 min, French with English subtitles
SCREENING 21 – SHORT FILMS PROGRAM  4
Thu. Nov. 19th
Virtual room
17:00 (ADT)
ENTRACTE
France, 2019, Comedy-Drama, fable, 16 min, French with English subtitles
AMOURS SYNTHÉTIQUES
France, 2020, Comedy-Drama, 24 min, French with English subtitles
BALTRINGUE
France, 2020, Fiction/drama, 20 min, French with English subtitles
Professional Serie

EN CONVERSATION AVEC DAMIEN BONNARD
An interview with the French comedian whose trajectory is singular Un entretien avec le comédien français à la trajectoire singulière
From November 18th to November 21st
Online