April 16 to 25, 2021
Moncton, NB – Online
The Frye Festival is the largest literary event in Atlantic Canada and a bilingual celebration of books, ideas and the imagination. Amounting to ten days of festivities, the festival takes place at the end of April and unfolds in the Greater Moncton region, in neighbouring communities, and, in the case of school visits, all over the province. In 2021, The Frye Festival will be both online and onsite!
To watch the events live, visit the Frye Festival YouTube channel (@𝗙𝗿𝘆𝗲𝗠𝗼𝗻𝗰𝘁𝗼𝗻) youtube.com/user/FryeFestival
Laurent Binet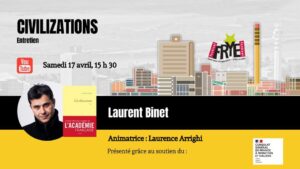 Laurent Binet is a French writer born in Paris, where he also studied.
He wrote in 2000 a story of surrealist inspiration, Forces et faiblesses de nos muqueuses (Le Manuscrit). In 2004 he published La Vie professionnelle de Laurent B. (Little Big Man), which testifies to his experience as a secondary school teacher in Paris and the Paris region.
HHhH (an acronym for Himmlers Hirn heisst Heydrich, meaning Himmler's brain is named Heydrich) was published by Grasset in 2010, and which tells the true story of "Operation Anthropoid", during which two Czechoslovak resistance fighters were sent by London to assassinate Reinhard Heydrich, Head of the Gestapo and the Nazi secret service. A reflection on fiction and its problematic articulation of historical truth, the book was critically acclaimed as soon as it was released in January 2010, and won the Goncourt two months later.
He was awarded the Prix de l'Académie Française in 2019 for his novel Civilizations, which was translated into English under the title Civilisations.
Mirion Malle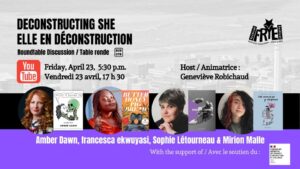 Mirion Malle is a French graphic novelist. She has notably published works with sociological and feminist content such as Commando Culotte (2016, Ankama) and La Ligue des Super Féministes (2019), and has illustrated several books for young people.
In 2020, her first work of fiction, C'est comme ça que je disparais, was published in Quebec by Pow Pow, a book that tells the story of a depression, Clara's, and tries to explain it, this emptiness that fills everything.
Mirion Malle has been living in Montréal since 2016. She loves movies, jokes, and fights, creates graphic novels and tattoos, and is currently working on her next work of fiction.
Amin Maalouf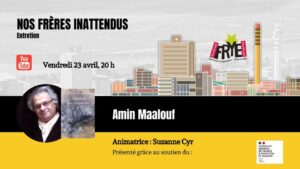 Amin Maalouf was born in Beirut in 1949.
He studied economics and sociology and worked as a journalist until the Lebanese war broke out in 1975. He then settled in Paris with his family and became editor-in-chief for the news magazine Jeune Afrique.
In 1983, he published his first book, The Crusades through Arab Eyes, followed in 1986 by his first novel, Leo the African. In 1993, his fifth novel, The Rock of Tanios, won the prix Goncourt, France's most prestigious literary award. Amin Maalouf's other novels include Ports of Call, Balthasar's Odyssey, Samarkand, and The Disoriented.
He has also published three highly acclaimed essays: In the Name of Identity: Violence and the Need to Belong in 1998, Disordered World: Setting a New Course for the Twenty-first Century in 2009, and, in 2019, Le Naufrage des civilisations, which was published in English in 2020 under the title: Adrift. How Our World Lost Its Way. Amin Maalouf also wrote a number of opera libretti, including L'amour de loin and Adriana Mater for Finnish composer Kaija Saariaho.
Among many prestigious distinctions, Amin Maalouf received the Prince of Asturias Award for Literature in Spain (2010), the Sheikh Zayed Book Award in the United Arab Emirates (2016), the Calouste Gulbenkian Award in Portugal (2019), and, in 2020, both the Premio Malaparte and the Premio Terzani in Italy. His various books have been translated into more than fifty languages.
Amin Maalouf was elected to the Académie Française in June 2011.