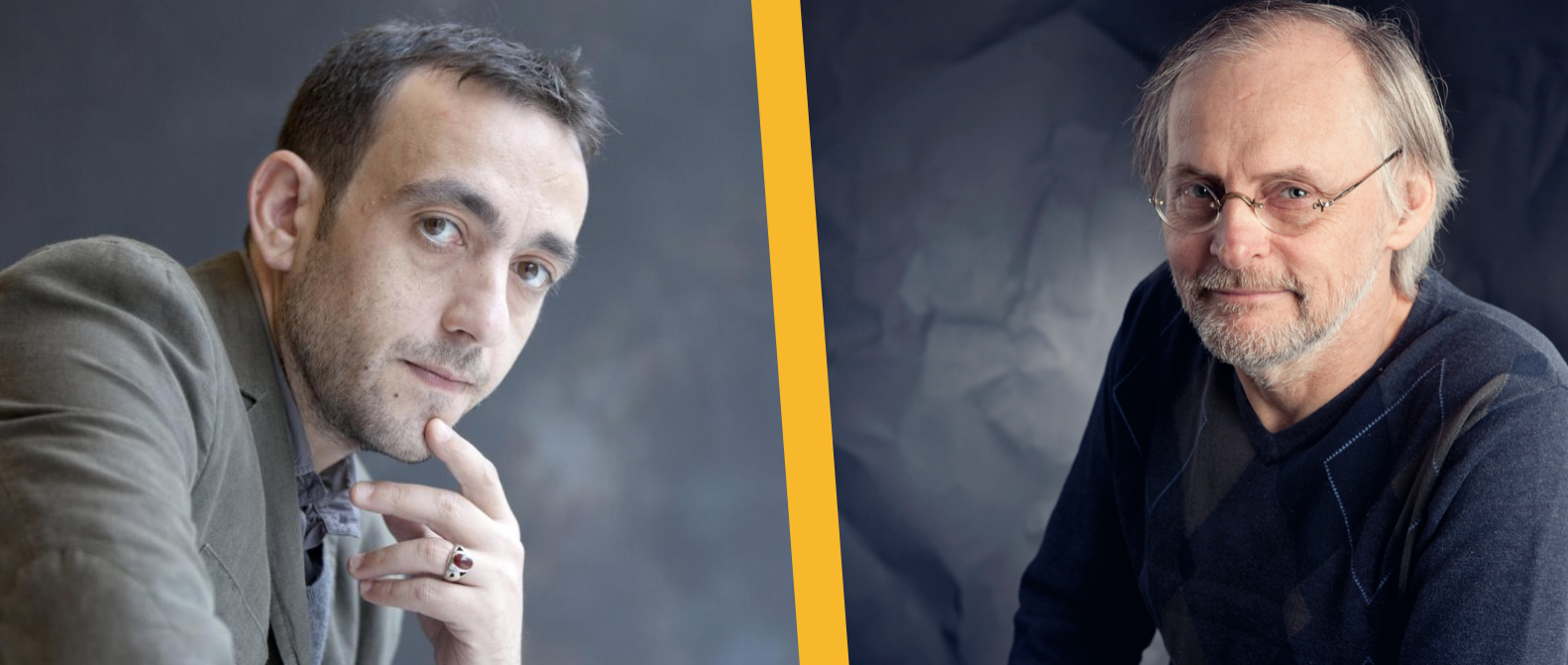 "Envision, design and build a peaceful future together." With these words, French Ambassador to Canada Kareen Rispal opened this past November 7 a discussion between Jérôme Ferrari and Yves Gingras on the following question: Is science conducive to peace?
This conference, hosted by the Office of Cultural Affairs at the French Embassy, the Canadian War Museum, Lycée Claudel and the Philosophy Department at the University of Ottawa, as part of the commemorative week of the 11 November 1918 armistice.
Mr. Ferrari, author, recipient of the 2012 prix Goncourt and philosophy professor, and Mr. Gingras, professor of the history and sociology of science at UQAM and Chair of research for Canada in the history and sociology of science were guest speakers. They argued that, while scientific advancements have contributed to the escalation of violence in some conflicts, the important contributions of scientific research, and the sharing of its results with the rest of the world, can contribute to the prevention and resolution of conflict.
Following the lively exchange led by Hugues Baudouin-Dumouchel, questions from the audience were taken. Among the 200 people who attended, nearly 130 were students from Lycée Claudel.
Jérôme Ferrari
Born in Paris in 1968, Ferrari taught for four years at the Lycée international in Algiers. Since 2007, he has lived and taught in Corsica. His book, Le Sermon sur la chute de Rome, won the prix Goncourt in 2012.
He has also published several other novels, including: Dans le secret (2007), Balco Atlantico (2008), Un dieu un animal (2009), Où j'ai laissé mon âme (2010) and À son image (2018).
Yves Gingras
Yves Gingras is a professor in the history department of the Université du Québec à Montréal (UQAM). He is also the Canada Research Chair in the History and Sociology of Science and the scientific director of the Science and Technology Observatory at UQAM.
He has published several works, including: Histoire des sciences (Paris: Presses universitaires de France, 2018), Sociologie des sciences (Paris: Presses universitaires de France, 2e edition, 2017), L'impossible dialogue : sciences et religions (Montréal, Paris: Éditions Boréal et PUF, 2016) and Bibliometrics and Research Evaluation: Uses and Abuses (Boston: MIT Press, 2016). He also edited the collection Controverses : accords et désaccords en sciences humaines et sociales (Paris: CNRS Éditions, 2014).