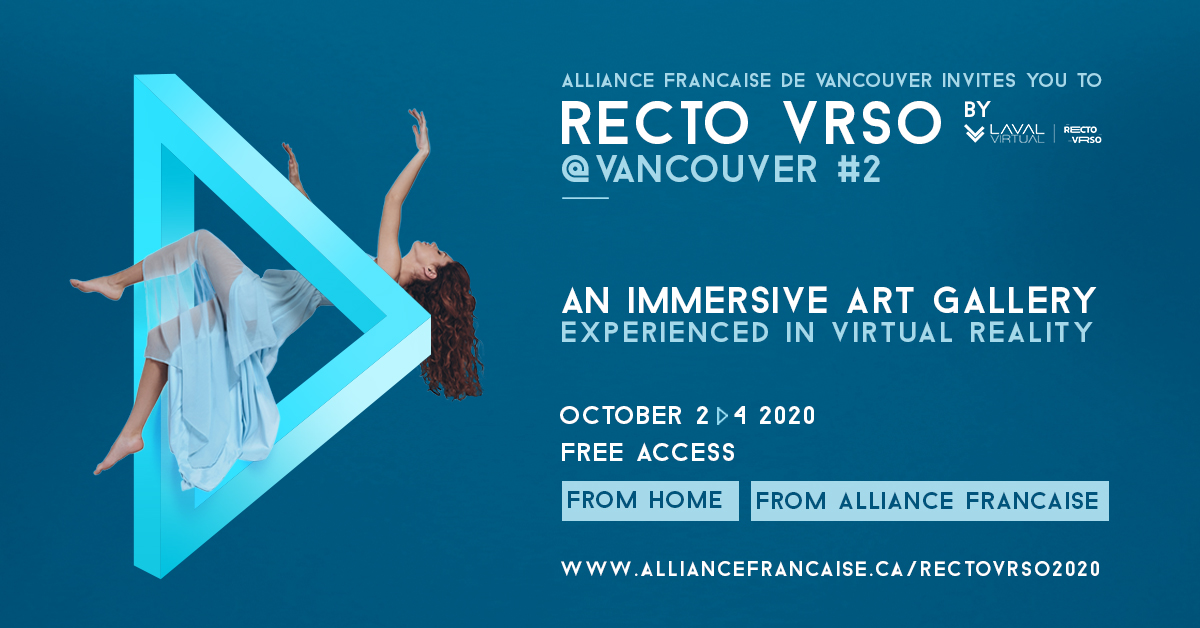 Proudly presented by Alliance française de Vancouver, the Embassy of France in Canada, Laval Virtual, and Kreis Immersive.
RECTO VRso sees new horizons! In the Face of COVID-19, the RECTO VRso team is adapting to new forms of creation and distribution.
While the physical exhibition "Real Body – Virtual Body" has been postponed in France to April 2021, Laval Virtual is experimenting with another way to show the scenography and artworks planned for the Art&VR Gallery: A virtual exhibition of the Art&VR Gallery of the RECTO VRso 2020
After a successful 2019 edition in Vancouver, RECTO VRso 2020 will feature 16 digital artworks from French, Canadian, and international artists. The virtual gallery was created by Judith GUEZ, exhibition curator and founder of the RECTO VRso festival by Laval Virtual, and transformed into a multi-user VR experience on the unique platform made by Vancouver company, KREIS Immersive.
FROM FRANCE: Sept 28
Laval Virtual will launch the Art&VR Gallery on September 28 at 8pm (CET – 11am PST), during the Laval Virtual Days. This event will give the opportunity to VR professionals and VR lovers from France to discover the Art&VR Gallery. Click here for more information about Laval Virtual Days.
VIRTUAL OPENING: Oct 2
On October 2, Laval Virtual and Alliance française de Vancouver are inviting Canadians and French for a virtual meetup/opening. Create your avatar and wander in LAVAL VIRTUAL WORLD. Register now here.
FROM ALL OVER THE WORLD: Oct 2-4
From October 2-4, Canadians and people from all over the world will be able to experience online the Art&VR Gallery 2020 as part of the RECTO VRso Festival. If your home is VR ready (PC headset), access the VR Gallery here.
IN PERSON IN VANCOUVER: Oct 2-4
VR lovers from Vancouver will be able to access the gallery, from Alliance française de Vancouver, in a COVID-19-designed space meeting the current public health size limit and safety measures, including regarding the use of VR equipment. Register now here.
For more information, visit Alliance française de Vancouver.
Cannot wait ? Visit now the virtual Art&VR Gallery (in 3D, non VR) here.