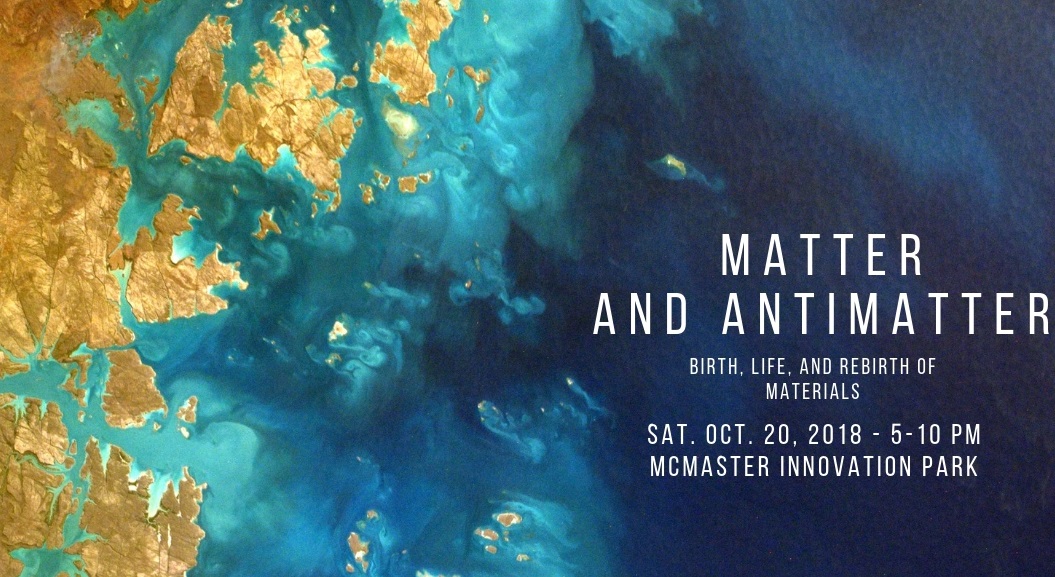 Where does matter came from? What is it used for? How is it going to be? Can we live without it? Can we at least be less dependent on it? All these questions will be addressed at the 2018 Researchers' Night. Béa Johnson, Danièle Quantin, and researchers from McMaster University and professionals from Hamilton's region will bring their own insights to the audience. The latter will be invited to explore various research projects such as: dark matter, soft matter, archaeological materials from the Hamilton area, materials for transportation & the EcoCar, modern microscopes & what they tell us about atoms, biomedical materials & the future of patient care, materials & the law, materials & the environment.
Speakers, who come from various backgrounds (archeologists, engineers, astrophysicists, and more) will engage the public with hands-on workshops, activities, and open discussions. Several workshops and talks are offered in either English and/or French. Everyone is very welcome from 5 p.m to 10 p.m!
Presented in partnership with the French Embassy in Canada, the French Consulate in Toronto, the McMaster Innovation Park, the department of Materials and Engineering at McMaster University, the Office of International Affairs at McMaster, and Economic Development Hamilton, this event aims at facilitating and encouraging exchanges of all kinds between Canadian and French researchers and artists.
The Researchers' Night Hamilton 2018 promises to be again a one-of-a-kind and unforgettable experience for all!
On Saturday October 20, 2018 from 5:00 p.m. – 10:00 p.m., Hamilton's fifth annual Researchers' Night Hamilton will take place at the McMaster Innovation Park. This year's theme is "Matter and Antimatter" and will explore the birth, life and re-birth of materials. Béa Johnson, founder of the Zero Waste Lifestyle Movement, and Danièle Quantin, Arcelor Mittal's R&D Director, are the guest speakers of the Night. Béa Johnson will open the Night at 5:00 p.m. by a public lecture.
Date: Saturday October 20, 2018
5 – 6 p.m.: Public Lecture by Bea Johnson, founder of Zero Waste Home movement
6 – 10 p.m.: Discover the 10+ stations and presentations by researchers ongoing throughout the evening.
Location: McMaster Innovation Park 175 Longwood Road South, Hamilton, ON L8P 0A1
Admission and Parking: Free
Website: www.researchersnighthamilton.com
Facebook: Researchers' Night Hamilton – Twitter: RsNHam
Instagram: Researchers' Night Hamilton
Email : [email protected]
Contacts:
Florence I. Roullet, Director: [email protected]
Athanasios Psaltis, Coordinator: [email protected]