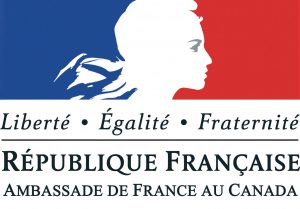 "Books in Translation: a Paris Fellowship for Canadian Publishers" offers three Anglophone Canadian book publishers the opportunity to get to know the French publishing world better, from its wide range of different publishers to its diverse set of books and authors. The fellowship consists of a three-day business trip to Paris with a full program composed of one-and-one meetings with French publishers, rights directors and directors of collections.
Following a call for applications launched last February, a jury of Canadian and French book market experts selected three candidates:
– Ana Barajas, the director of YYZ Books (Toronto);
– Andy Brown, the director of Cunundrum Press (Wolfville);
– Leila Marshy, the director of communications at Linda Leith Publications (Montréal).
From June 3rd to 5th, 2019, they will meet with over thirty French publishing companies, and more than 50 French publishers, editors and foreign rights managers, opening perspectives for further cooperation.
The Paris Fellowship was initiated and funded by the Cultural Service of the French Embassy in Canada, with the support of the Institut français in Paris, as an effort to promote mutual knowledge and translation of literary works between English-speaking Canada and France.
The next call for applications is to be announced in 2021.