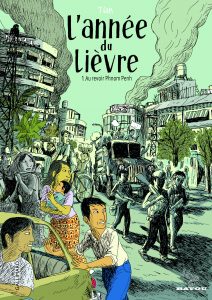 Twice a year, the Rights Purchase Grant Program of the French Institute offers foreign publishers the possibility of receiving financial assistance for the purchase of French books. Prior to applying, the foreign publishers must sign a contract with the French publisher concerned as the grant will be directly given to the latter. The grant can cover the totality or a part of the sum of the rights. The commission for the first session of 2019 chose to reward three Canadian publishers: Drawn & Quarterly, The Secret Mountain and Talon Books.
Founded in 1990 in Montreal, Drawn & Quarterly is one of the most important Canadian independent publishing houses specialised in comics. Its catalog has been open to French contemporary creation for a long time, with authors such as Jérôme Ruillier, Brigitte Findakly or Lewis Trondheim. The French Institute supported their project of acquisition and translation of The Year of the Rabbit, by Tian (Gallimard jeunesse, 2011-2016), an autobiographical trilogy that sheds light on the dark years of reign of the Khmer Rouge in Cambodia.
The Secret Mountain is a Montreal-based bilingual publisher specializing in youth albums combining literature and music. Comptines de cajou et de coco (Didier Jeunesse, 2018), a collection of West African traditional songs and a CD, will be published by The Secret Mountain next September with the support of the French Institute.
Talon Books is an independent publisher based in Vancouver since 1963, which publishes novels, poetry and essays. After its translations of Naissance d'un pont (Verticales, 2010) in 2014 and Réparer les vivants (Verticales, 2013) in 2016, the publishing house tackles Un monde à portée de main (Verticales, 2018) by the French author Maylis de Kerangal. This third publication, accompanied as the two previous by the translator Jessica Moore, is supported by the French Institute.