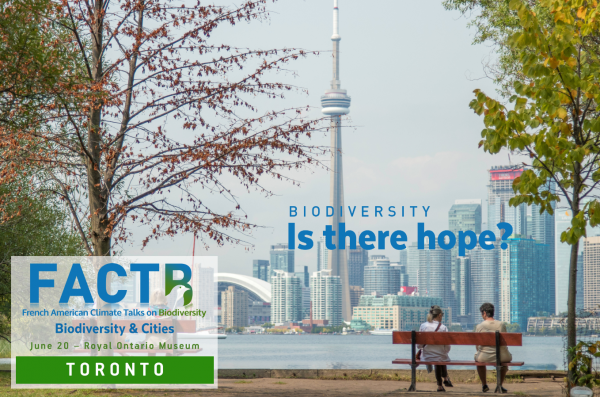 The Cultural and Scientific Service of the Embassy of France in Canada and the Department of Ecology & Evolutionary Biology at the University of Toronto are organizing a French Ameri-Can Climate Talk on Biodiversity (FACT-B) to be held on June 20, 2019 in Toronto, Ontario, on "Biodiversity in the City".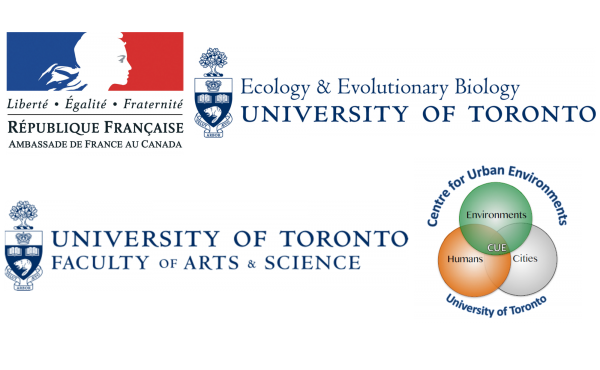 Biodiversity, as part of our natural environment, plays a critical role in a variety of aspects that are central to our quality of life and cultural integrity such as providing food, energy and medicines. A landmark assessment released in May in Paris revealed that nature is declining globally at rates unprecedented in human history. This report, conducted by the Intergovernmental Science-Policy Platform on Biodiversity and Ecosystem Services (IPBES), concludes that "transformative change is needed" to halt the loss of biodiversity and maintain the healthy functioning of ecosystems that underpin all dimensions of human life.
Urban areas have more than doubled since 1992. Along with other kinds of land-use change such as agriculture and forestry, urban development is understood as being one of the main causes of the biodiversity loss. While more than half the world's population lives in cities, it is projected that 6 out of 10 people will be urban dwellers by 2030. However, cities shouldn't be associated merely to biodiversity decline, and, in fact, cities can also support high biodiversity. This conference will examine the conditions – some of which highlighted by the last IPBES plenary session – in which cities such as Toronto can be such vectors; and how nature-based solutions can be cost-effective for meeting the Sustainable Development Goals in cities, which are crucial for global sustainability.
Introducting Remarks:
Mr. Marc Trouyet, Consul General of France in Toronto

Moderator:
Dr. Dan Riskin, T.V. host of the Discovery Channel program "Daily Planet".
Speakers:
Dr. Chelsea Rochman, Professor in the Department of Ecology & Evolutionary Biology at the University of Toronto, expert on the biological influence of microplastic pollutants in aquatic environments
Dr. Deborah Martin-Downs, Chief Administration Officer of the Credit Valley Conservation Authority
Mr. Cyrille Barnerias, Head of European and International Affairs, French Biodiversity Agency
Dr. Thierry Boulinier, CNRS Research Director, Center for Functional & Evolutionary Ecology, University of Montpellier
Program :
4:45pm – 5:25pm Registration FACT-B
5:30 pm – Doors of the ROM close (Doors will re-open at 6pm for late guests)
5:30 pm – Welcoming Remarks
5:45 pm – Panel discussion on Biodiversity in the City
6:45 pm – Q&As
The panel will be followed by a cocktail reception in the Royal Ontario Museum (Signy and Cléophée Eaton Theatre and Lobby) from 7 pm to 8:45pm.
The event is free but registration is required : https://www.eventbrite.com/e/biodiversity-is-there-hope-fact-b-in-toronto-ontario-tickets-62217601521?aff=ebdssbdestsearch
Please note: In case of a full program, your ticket reservation may not guarantee admission. Please plan to arrive to the event early.
Where ?
Royal Ontario Museum
Signy and Cléophée Eaton Theatre and Lobby
100 Queens Park
Toronto, ON M5S 2C6
Canada
FACT-B is a new series of high-level conferences bringing together French, American, and Canadian speakers from academia, government agencies, NGOs, and think tanks. The goal of FACT-B is twofold: to raise public and decision makers' awareness in France, the U.S., and Canada, as well as to reinforce exchanges between scientists and experts on biodiversity issues. FACT-B is part of France's broader efforts to make biodiversity conservation a priority at the international level, in the same way as the fight against climate change. The initiatives on biodiversity to be led by the French diplomatic network in North America in 2019 will echo the organization of major events in France in 2019 and 2020, including the 7th Plenary of the IPBES in Paris (April 2019); the G7 Summit, one of whose priorities will be biodiversity conservation, in Biarritz (August 2019); and the 7th World Conservation Congress of the IUCN in Marseille (June 2020).