In the context of Pride Month and the celebration of the Stonewall riots, the Cultural Service of the French Embassy in Canada, the members of the EUNIC (European National Institutes for Culture) clusters of Toronto and Montréal, the UofT and the ArQuives are pleased to present a series of events dealing with the issue of LGBTQ+ archives and the place of minorities in those arch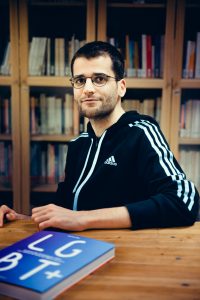 ives.
Antoine Idier, sociologist, historian and professor at the School of Fine Arts of Paris Cergy will be our guest and he will present his new book LGBT+ Movement archives, A history of struggles from 1890 to the present day. In this book, Antoine Idier insists on the issue of the archive for the LGBTQ + community: "The question is crucial not only because the erasure of history is simply erasure, but also because history is constitutive of the construction of an identity and a subjectivity ":" to appropriate archives is to refuse to let to others the epistemological privilege to write history; it means to stand against dispossession."
PROGRAM:
June 19, 6pm @Alliance Française de Toronto
Screening of the film Al Berto by Portuguese director Vicente Alves do Ó, in partnership with the Camões Institue of Toronto.
Synopsis: It's the summer of '75 in Sines, Portugal. Al Berto, the writer, embodies an entire moving generation. He and his friends exude youth, eccentricity and hope for the future – but right after the fall of Portugal's dictatorship , the country is not yet ready for his love story.
Trailer: https://www.youtube.com/watch?v=oUS-8TO9CVM
Facebook Event: https://www.facebook.com/events/669708133481910/
June 19, 7pm @Goethe-Institut Montréal
The Consulate General of France in Québec invites you to a discussion with Antoine Idier entitled "LGBT+ Archives and Historical Political Minorities".
More information: https://www.goethe.de/ins/ca/en/ver.cfm?fuseaction=events.detail&event_id=21583782
June 20, 2pm @UofT, UC 140
Antoine Idier will present his book (in English), and his presentation will be followed by a panel (in English) on LGBTQ+ archives in Europe and Canada with a focus on the untold and invisible stories of the movements. The role of archives in the LGBTQ+ community will be discussed, especially as regards to the empowerment and the struggles of the community. This panel will also be the occasion to question the place of the minorities inside the community, and to see how the borderline between art and archives can be overstepped.
Speakers:
Raegan Swanson, serves as the Executive Director for The ArQuives, Canada's LGBTQ2+ Archive. She is currently working on her PhD focusing on the role of community archives inAboriginal and Inuit communities in Quebec. She is member of the Steering Committee on Canada's Archives Taskforce to respond to the "Calls to Action" Report fromthe Truth and Reconciliation Commission.
Dr. Rebecka Sheffield is a Senior Policy Advisor for the Archives of Ontario and a member of the Recordkeeping Strategies Unit. She holds a graduate degree in information studies with a specialization in archives and records management. She completed a PhD at the University of Toronto's iSchool in collaboration with the Mark S. Bonham Centre for Sexual Diversity Studies.
Courtnay McFarlane is a Toronto-based community health promoter, visual artist and poet whose work has been published in several African-Canadian and Queer anthologies. Herecently curated Legacies in Motion: Black Queer Toronto Archival Project, that unearthed and celebrated the political and cultural activism of Black LGBTQ communities in Toronto in the 1980's and 1990's.
Phillip Pike is an emerging documentary filmmaker. He is a graduate of the Documentary Filmmaking Institute (School of Creative Arts & Animation, Seneca College, Toronto). Our Dance of Revolution, his third film and second feature, tells the story of Toronto's black queer community, and all the adversity it has faced.
Moderator:
 Dr. Aimée Mitchell, Research Associate and Project Manager of Archive/Counter-Archive, a SSHRC Partnership Grant hosted by York University. She holds a PhD from the York-Ryerson University Communication and Culture Program. Her dissertation explored the politics and practices of audiovisual archives in Canada, and more specifically, the importance of DIY archiving practices in its various forms. Aimée is the former Distribution and Collections Manager at the Canadian Filmmakers and a former programming associate for Toronto Queer Film Festival.
Facebook Event: https://www.facebook.com/events/348077642568450/
June 20, 7:30pm @Alliance Française de Toronto
Screening of 120 Beats per minute, by Robin Campillo (2017, 143min, French version with English subtitles)
This screening will be preceded by a presentation of the historical context of the film and the struggles of the Act-Up Paris collective, by Antoine Idier, entitled "Une histoire de la colère" (A n history of anger" (in French).
Synopsis: Early 1990s. With AIDS having already claimed countless lives for nearly ten years, Act up-Paris activists multiply actions to fight general indifference. Nathan, a newcomer to the group, has his world shaken up by Sean, a radical militant, who throws his last bits of strength into the struggle.
Trailer: https://www.youtube.com/watch?v=1OMTbD-IIOc
Facebook Event: https://www.facebook.com/events/1623104067832959/
June 21, 12:30pm @Glad Day Bookshop
Conference-picnic in French in the famous LGBT + bookstore of Toronto: Antoine Idier will present in French his book Archives of LGBT + movements, A history of struggles from 1890 to the present, in partnership with Francoqueer.
Facebook Event: https://www.facebook.com/events/829667554099886/
June 21, 5pm @Goethe-Institut
Conference organized by the Goethe-Institut entitled "From counterculture to mainstream: Queerness in the cultural sector."
Information and details : https://www.goethe.de/ins/ca/en/sta/tor/ver.cfm?fuseaction=events.detail&event_id=21506622
WHERE ?
Alliance Française, 24 Spadina Road Toronto, ON M5R 2S7  –  https://www.alliance-francaise.ca/en/
UofT, UC 140, 15 King's College Circle, TORONTO, ON, Canadak, M5S 3H7  –  https://anthropology.utoronto.ca/locations/uc-140/
Glad Day Bookshop, 499 Church Street, Toronto, Ontario, M4Y 2C6  –  https://www.gladdaybookshop.com/
Goethe-Institut Toronto, 100 University Ave, Toronto, ON M5J 1V6, Canada  –  https://www.goethe.de/ins/ca/fr/sta/tor.html
Goethe-Institut Montréal, 1626 boul. St-Laurent, Suite 100, Montréal, Québec, H2X 2T1, Canada – https://www.goethe.de/ins/ca/fr/ver.cfm?fuseaction=events.detail&event_id=21583782
IMPORTANT
All the events are free but registration is recommended for the panel :
https://www.eventbrite.com/e/histories-of-lgbtq-movements-and-minorities-in-europe-and-in-canada-tickets-62854782346
AND ALSO:
June 9 at 2pm and 5:45pm: screening of Our Dance of Revolution, Phillip Pike (2019) @ Hot Docs Ted Rogers Cinema, 506 Bloor Street West  –  https://www.ourdanceofrevolution.com/screenings/
Until June 23: exhibition « Queer as German folk: Perspectives on Stonewall 5.0» presented by Goethe-Institut @Stackt, Bathurst & Niagara St.
Free admission  –  https://www.goethe.de/ins/ca/en/sta/tor/ver.cfm?fuseaction=events.detail&event_id=21506622