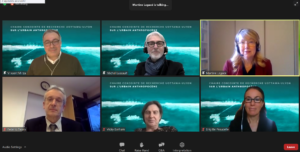 The University of Ottawa and the École d'Études Urbaines de Lyon officially launched on January 29th an international joint research chair on anthropocene urbanism.
Led by Vincent Mirza, professor at the University of Ottawa in sociological and anthropological studies and Michel Lussault, professor of urban studies at the École Normale Supérieure de Lyon, the research chair has an initial five-year mandate.
Based on an interdisciplinary, inclusive and innovative approach, the project's ambition is to bring out common tools to deal with current global changes. Research themes around cities and the anthropocene will be developed, in order to understand the links between global urbanization and environmental impact and to seek solutions to the challenge of the planet's habitability. The transversal nature of the theme will enable to link various fields such as human and social sciences, earth sciences, law, environmental sciences and digital technology. Professors Mirza and Lussault hope that this interdisciplinary approach will also make the joint chair a starting point for new and diverse bilateral collaborations.
Beyond the research project, the Chair will also aim to encourage the mobility of French and Canadian researchers and the organization of joint scientific events. A student training component is also planned, with the objective of creating interdisciplinary programs involving students in all of the Chair's research and knowledge mobilization activities.
This inauguration comes 2 years to the day after the opening at the University of Ottawa of the joint CNRS-University of Lyon office, intended to strengthen and develop existing collaborations with the University of Ottawa. The opening of the Joint Research Chair on Anthropocene Urbanism confirms the relevance of this initiative and testifies to the richness of the collaborations between France and Canada.
A historical partner of the French Embassy in Canada, the University of Ottawa has maintained institutional links with universities in the Lyon region for the past ten years.
The inauguration of this joint research chair was attended by Jacques Frémont, Rector of the University of Ottawa, Frédéric Fleury, President of the Université Lyon 1, Brigitte Proucelle, Cultural and Scientific Counsellor at the Embassy of France, Martine Lagacé, Associate Vice-President, Research at the University of Ottawa, and Victoria Barham, Dean of the Faculty of Social Sciences at the University of Ottawa.