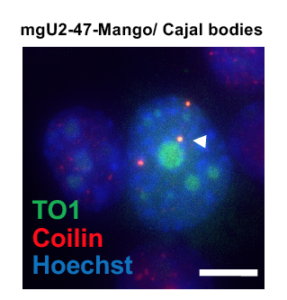 Cells stained with various fluorochromes
VANCOUVER – Thanks to funding from the scientific service, Sunny jeng, a doctoral student in The Unrau laboratory at Simon Fraser University (SFU), went to Strasbourg in 2017 for a one-month stay. The collaboration between Dr. Unrau and Dr. Ryckelynck from the Institut de Biologie Moléculaire et Cellulaire (IBMC) of Strasbourg (CNRS / University of Strasbourg), is extremely positive: with several articles written and one publication in Nature Communication together with David Rueda (Imperial College, London):
Fluorogenic RNA Mango aptamers for imaging small non-coding RNAs in mammalian cells.
Autour A, C Y Jeng S, D Cawte A, Abdolahzadeh A, Galli A, Panchapakesan SSS, Rueda D, Ryckelynck M, Unrau PJ.
Nat Commun. 2018 Feb 13;9(1):656
Dr. Unrau and Dr. Ryckelynck have filed a patent on aspects of this work, which facilitates the study of RNA in both live and fixed cells.
You can read the paper on Nature.com
For more information about The Unreau Laboratory, visit SFU
For more information about the research team "Digital Biology of RNA" led by Dr. Ryckelynck, visit IBMC