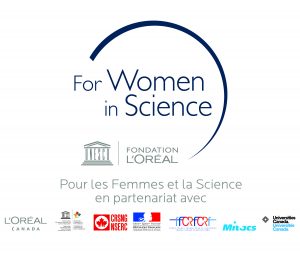 The France Canada Research Fund (FCRF) is proud to be associated for several years with L'Oréal Canada to support women in science and the excellence of their scientific work.
As part of this partnership, two $5,000 scholarships are awarded every year to two young Canadian women researchers involved in French-Canadian research projects pre-selected by the FCRF. The laureates are also invited to participate in the mentorship program for young girls, which allows them to share their experience and passion for science with young girls aged 9 to 14.
Exceptionally this year, the FCRF and L'Oréal Canada are pleased to reward not two but three women who have distinguished themselves both through the excellence of their research work and their inspiring paths.
The three 2020 laureates are :
– Mackenzie Urquhart-Cronish, a doctoral student at UBC who is studying in the fields of botany and biodiversity;
– Justine Salam, who is completing a PhD in International and Comparative Political Economy at the University of Waterloo.
– Hope Boyce, a doctoral student at McGill University who is studying astrophysics;
The awards ceremony, which traditionally takes place in the fall at the Residence de France in Ottawa, is exceptionally postponed to 2021.
The France Canada Research Fund is particularly pleased to honor the promising work of young Canadian women researchers once again this year, thanks to L'Oréal Canada. These awards help to continue supporting women in science, who in these special times have so many additional challenges to face.