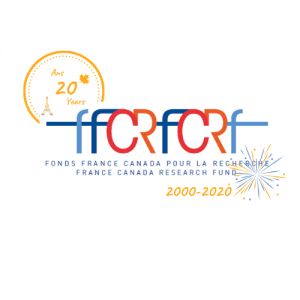 WHAT IS THE FRANCE CANADA RESEARCH FUND (FCRF)?
The France Canada Research Fund is a major instrument of Franco-Canadian scientific cooperation, created in 2000 through an agreement between the French Embassy in Canada and a consortium of 16 Canadian universities.
In twenty years, the FCRF has financed over 300 collaborative research projects. The FCRF is currently made up of twenty member universities and supports around 20new projects each year. These projects are led by French and Canadian teams collaborating for the first time.
Laureates are awarded start-up grants of CA$8,000 to $15,000 to fund research and student mobility between the two countries.
HOW TO APPLY
The FCRF is open to all areas of research.
Applications are accepted for collaborative projects that involve a French establishment (university, Grande École or research organization) and one of twenty FCRF member universities in Canada.
The FCRF exclusively funds new collaborative projects. To be eligible, researchers must not have worked together in the past. Research teams MUST include students and young researchers.
Member universities may submit up to five applications. Preselected applications are evaluated during phase II by a committee made of French and Canadian experts. The executive committee then makes its final decision at the FCRF annual meeting.
Up to date FCRF guidelines are provided each year to researchers when the call for applications is launched.
If your university is interested in joining the FCRF consortium, please contact the French Embassy at: [email protected]
2021 APPLICATIONS
Applications are open until November 13, 2020 (23:59 Pacific Time).
Canadian member universities will then have until December 11, 2020 to pre-select a maximum of 5 applications per university.
Competition results will be announced by email in the days following the annual meeting of the FCRF Executive Committee, which will take place the week of May 3, 2021.
Researchers interested in submitting an application should read the 2021 FCRF Guidelines carefully before sending their application. The application form is available here.
If you have any questions about the program, please contact us at [email protected] You can also contact the FCRF correspondent at the Canadian member university to which your project is attached. The list of correspondents is available in the 2021 FCRF Guidelines.
Please note that while the grants are traditionally awarded for 2 years, the duration of funding may be extended in accordance with the evolution of the health situation.
For information about this program and how it works, please contact us at [email protected].
FCRF AND PARTNERS
The French Ministry of Higher Education, Research and Innovation (MHERI)
Historic partner of the FCRF, the MHERI provides preselected teams the opportunity to apply for one of three doctoral contracts available each year. Three contracts are given each year to three French higher education institutions participating in one of the top three best projects selected by the FCRF executive committee.
MITACS
MITACS is a Canadian federal agency that has been designing and implementing research and training programs across Canada for 20 years. It collaborates with an extensive network of 70 universities, government agencies and thousands of companies. MITACS has supported the Fonds France-Canada pour la Recherche for several years. Canadian and French Masters and PhD students who participated in a winning project are eligible to apply for the MITACS Globalink research grant that same year.
L'Oréal Canada
For several years now, L'Oréal Canada, in partnership with UNESCO, has been promoting women's participation in science and their contributions to scientific progress through the For Women in Science program.
The FCRF and L'Oréal Canada partnered together to encourage women to participate in Franco-Canadian scientific collaborative projects. The L'Oréal-FCRF scholarship is awarded each year since 2013 to two young Canadian PhD students or post-doctorate researchers involved in a Franco-Canadian collaborative project.
Ambassador Kareen Rispal on the L'Oréal-FCRF scholarship, for the 2019 award ceremony.
Learn more about the 2019 and 2020 L'Oréal-FCRF laureates.
FREQUENTLY ASKED QUESTIONS
Can post-doctoral fellows apply?
No, only researchers holding a tenured or tenure-track position may apply.
 What is meant by "young researcher"?
Refers to master's and doctoral students. Post-doctoral fellows can be considered as young researchers provided that the teams also include students.
 What is a "new collaboration"?
Researchers who wish to apply must never have worked together. Co-publication, joint organization of symposia or joint supervision of students, for example, are considered as collaborations. The researchers concerned are not eligible.
 What are the eligible expenses in the budget?
FCRF funds are primarily intended to finance the mobility of researchers, including young researchers. As such, travel expenses such as flights, accommodation and meals are eligible. Fees should be balanced to give students a chance to travel as well.
Indirect costs of universities (overheads) and salaries are not eligible.
 What can be included in the "other" category of the budget?
For example, equipment or material costs required for the project are eligible. However, it is recommended that no more than 10% of the total budget be included in the "other" category.
RELATED LINKS
Read the FCRF Evaluation Report (2013) (in French)
What's new from the recipients:
Discover the 2020 FCRF laureates
UCalgary scholars share expertise with French colleagues on parasite protection, stress transmission, and why we eat