CentraleSupélec is launching the 2019 edition of the Accelerated Engineering Degree Programme. This programme is intended for international students completing a Bachelor's degree in sciences or engineering at non-French universities. Selected students will join CentraleSupélec in September 2020
and obtain the engineering degree in only two years. Selection is done through an entrance exam.
The deadline for submitting online application is 2 April 2019
Candidates selected by the jury will have to choose one of the following options for the examination:
Mathematics/Computer Science
Physics
Mechanical Engineering
Electrical Engineering
Examination calendar:
6 May 2019 – the written examinations in Paris, Beijing, Shanghai, Guangzhou.
8 – 15 May 2019 – the oral examinations in Paris or Beijing.
Scholarships will be available for students with highest scores.
Apply now at: http://centralesupelec-accelerated-progr.fr/
About CentraleSupélec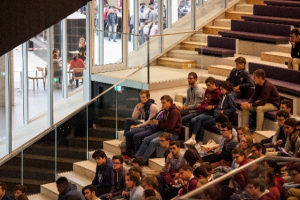 CentraleSupélec is one of the most prestigious French engineering schools. Its excellence lies in its mix of fundamental and applied sciences and in the importance
attached to innovation. With its three overseas campuses (China, Morocco, and India), 30 % international students, 70 nationalities represented, 180 partner universities, 80 double degree programmes, and 5,000 alumni working abroad, CentraleSupélec is an institution with a distinctive international philosophy and outreach.
In addition to combining excellent engineering training and a genuine international outlook, CentraleSupélec is also one of the driving forces behind the Université Paris-Saclay project. The project, launched in 2015, aims at creating a research-intensive academic campus and business cluster on the Saclay Plateau, 25 km south of Paris.