15janallday15feballdayOnline: myFFF(All Day)
Event Details

For a full month myFrenchFilmFestival is coming back online for you to watch  !

From January 15 through February 15, 2021, movie enthusiasts around the world will be able to access films selected in the 11th edition of the world's first online French-language film festival.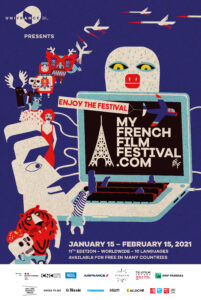 Ten feature films and ten short films are presented in competition, including a feature film and a short film from Belgium. Internet users are invited to rate all of these films and to post their comments on our website. The lineup also offers an out-of-competition program that includes a Swiss feature film, a Canadian feature film and short film, a program for young audiences, a VR section, and a selection of French cinema classics.
You can watch the movies on the MyFrenchFilmFestival.com platform in all countries. The festival program is also available on around sixty partner platforms, depending on the region concerned, including the Apple TV app, Google Play, Amazon Prime Video, and MUBI.
Five awards will be presented at the festival's closing ceremony:
The Grand Prize from the International Jury
honoring a feature film in competition
Audience Prizes
Internet users around the world can vote for their favorite films on the festival platform.
International Press Prizes
These prizes will honor a feature film and a short film in competition, with a jury composed of journalists from major foreign media outlets.
The International Jury and the International Press Jury will meet during the festival to vote and determine the winners.
Cost: All of the short films are free of charge in all countries.
For the feature films :
Viewing fee for one feature film: €1.99
Festival Pack: €7.99 for access to all available films
Time

January 15 (Friday) - February 15 (Monday)